Reflections is a National PTA arts in education program for students in grades K-12. Students create art based on the current year's theme, which are submitted by students and selected 2 years in advance through an annual theme search contest. The theme for the 2020-2021 school year is, I Matter Because…, and was submitted by a then first grader who drew inspiration from her town being impacted by the CA wildfires of 2018. 
Use your imagination to create artwork, photography, poems or short stories, dance choreography, and music composition. You may enter as many times as you like in as many categories as you like. Each entry must be accompanied by an official entry form and are due to Ben Rush PTA by Monday, November 9th.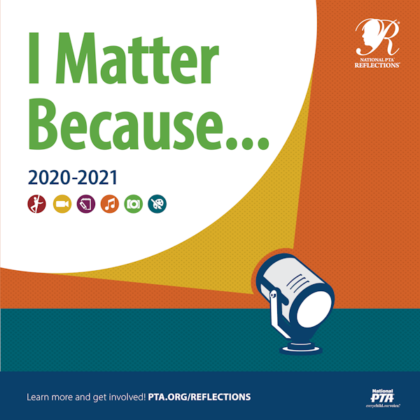 Full rules and instructions can be found at WA State PTA Reflections, and below are school specific rules and deadlines. 
View this checklist for helpful tips.
Complete the Ben Rush PTA entry form and send to Enrichment@BenRushPTA.org by Monday, November 9th (signatures not required).
Upload your work according to the entry rules to this Ben Rush PTA Google Drive folder.  
Please CAREFULLY read the relevant category's entry packet for eligibility (see links below).
Email Enrichment@BenRushPTA.org if you have ANY questions – and have fun!
These are the direct links to the student entry packets. 
The National PTA special artist division is an option for students with a disability as defined under the Americans with Disabilities Act (ADA). Generally, rules and guidelines within the special artists division are intended to ensure accessibility to the National PTA Reflections® program and are modeled after the guidelines outlined in the Americans with Disabilities Act (ADA). Complete details are included in the 2020-21 Special Artist Rules.